With an estimated 14.5 million Americans regularly using marijuana, it is a common occurrence to be stopped by the police for a traffic infraction while in possession.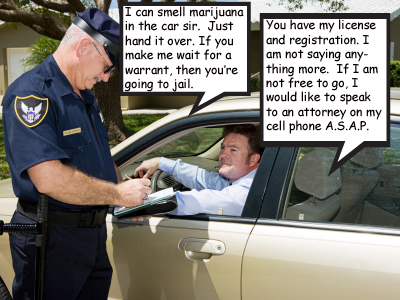 In most cases, the vehicle stop is unrelated to drugs; the driver is simply stopped due to exceeding the speed limit, driving with a broken taillight, or maybe expired tabs. The police cannot and do not search every single car they stop for speeding.   Nevertheless, police often end up making arrests for marijuana, even for possession of medical marijuana. The below advice is based on my 7 years of working as a prosecutor and my 8 years of working as a criminal defense lawyer.  Additionally, through public record requests, I have been studying patterns of police behavior in traffic stops that lead to marijuana arrests or charges.  Many of my public record requests were for arrest reports for marijuana cases stemming from police patrols near concert venues, barter fairs, and college campuses.
Tip one: Keep your registration and insurance instantly available.
When you drive on a public roadway, you are subject to being stopped for any minor traffic infraction: speeding, burnt out license plate light, failure to use turn signal, etc. So surprise!  One minute you are driving along, and a minute later with little notice you are face to face with a police officer standing at your window.  You want him to be on his way A.S.A.P.   Always have your registration and insurance ready to go instantly. Above the visor is a good place. Buried in the glove compartment is not a good place.  Defense lawyers always see references in police reports to how drivers can't find their important paperwork. The police often try to argue that the inability of a driver to produce these papers is indicative of impairment due to alcohol or marijuana use. If you have to root around to find the papers, you are, in effect, searching the car for the police officer because he or she gets to watch while you open everything up and dig through your belongings.
Tip two:  Don't keep marijuana in your purse or glove box.
Don't keep marijuana in your purse, glove box, wallet, or center console.  This is pretty basic advice, and you may have already thought of that. But do you know where the safest place is to store marijuana?  A locked suitcase, brief case, or locked bag is the safest place to store something you wish to keep private.  You may note that most of these locks are totally flimsy, and could be easily broken by the police. However, locked bags have historically been given much greater privacy under constitutional law.  See e.g. State v. Fladebo, 113 Wash.2d 388, 395, 779 P.2d 707 (1989);  see State v. Stroud, 106 Wash.2d 144, 152, 720 P.2d 436 (1986).   A locked bag is much less likely to be disturbed even if you are arrested for another matter such as an outstanding warrant or for driving with a suspended license.  The trunk always works too.
Tip Three: Remain Silent.
After you are pulled over and have received your traffic ticket, the officer might ask you if there are any guns or drugs in the car. Although some people might just lie and say no, I would suggest the better practice is to simply say "I don't have anything further to say, and if I am not free to go right now, I want to call a lawyer right now on my cell phone." Lying to a police officer in most states is a crime. Responding in the manner that I suggest will most likely be taken as you knowing your rights.  This will not  necessarily alert the police to the presence of any contraband.  After all, people who do not smoke marijuana would likely be offended by the questions, and they may just respond the same way rather than dignify the question with a direct response. And whatever you do, don't try to convince the officer of the merits of the case for legalization.  For some reason I see this a lot in reports, and I half wonder if it stems from a scene in the movie "Traffic" years ago.
Tip Four: Don't allow the police to search your car.
This might seem pretty obvious, but you would be surprised at how often drivers "consent" to a search of their car.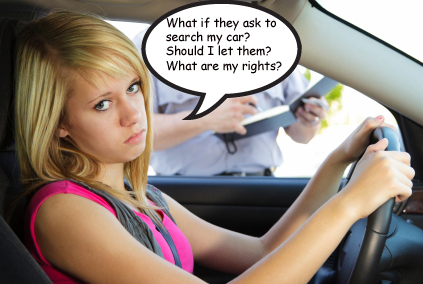 It usually goes something like this:  The police officer claims to be able to smell the marijuana, and threatens that if you make him go to the trouble of getting a search warrant, he will really throw the book at you. The police might also imply that if you just hand it over he might not charge you, and this is almost always false.
Tip Five: Keep the phone number of a lawyer handy.
It is helpful to have the 24-hour phone number of a criminal defense lawyer on your cell phone.  And by a "lawyer", I don't mean me.  I value my sleep too much, and I only give my cell number to current clients. But check the yellow pages for criminal defense law firms in the nearest city, and you will find phone numbers. The police won't necessarily allow you to speak to an attorney immediately on the side of the road, but the request to do so sends a clear message to law enforcement that you mean business when it comes to standing up for your rights. If you can't reach your lawyer, that is o.k. We already know what he or she will say to you: "Exercise your right to remain silent, and don't consent to any search."
Tip Six: Be aware of profiling.
When I use the term "profiling" I don't mean racial profiling.  What I mean is that the police have preconceived notions of what a marijuana user looks like, and the police also seem to target people going to and from rock concerts, barter fairs, and some colleges etc. Unlike racial profiling, courts seem to put up with a lot of this targeting by the police.  Keep in mind that marijuana enforcement varies from county to county and state to state. Read more about punishments for  marijuana possession and marijuana delivery.
Tip Seven: Be courteous.
Be courteous to the police.  I don't mean calling the officer "sir" or saying "thank you" when you get a speeding ticket.  I just mean don't go out of your way to antagonize them.  Additionally, remember that the officer's first concern is his or her safety, so keep your hands where he can see them.  Furtive gestures or a belligerent attitude can later be used in court to justify why an officer asked you to step out of the car for a pat-down search. Remember it is not discourteous to invoke your right to remain silent or to refuse consent to a search.
In conclusion, the above are tips for people traveling with small amounts of marijuana. I think the suggestions would be particularly helpful for people with medical cannabis authorization, who are still subject to harassment.
5 Responses to "7 Tips from a Lawyer for Traveling with Medical Marijuana in Your Car."