What are the dangers of looking for a DUI lawyer on the internet?
There are several websites that pretend to be law firms, and take all the information you give them and broadcast it all over the internet.  For example "google" the phrase "dui lawyer" in your town. Most likely you will see the website www.1800duilaws.com or one of its affiliated sites.  What happens to the confidential information that you provide the site?  I did a test to find out.  I googled the phrase "Spokane dui lawyer" and came across the site www.1800duilaws.com, and typed in some very sensitive information about my "case".  I conducted the experiment from a coffee shop in north Spokane.  About 5 minutes after I entered the details of my "Spokane DUI case", the comment I had entered into the site 1800duilaws.com came back to me in the form of a spam email to my law firm email account.   (I am not sure how I got on their email list, but I am sure that lawyers all over Washington received the same email.)  Basically, the site 1800duilaws.com invites lawyers to contact the person who needs a DUI lawyer, and they eventually try to sell the referrals to the lawyers.  Below is the email that I received.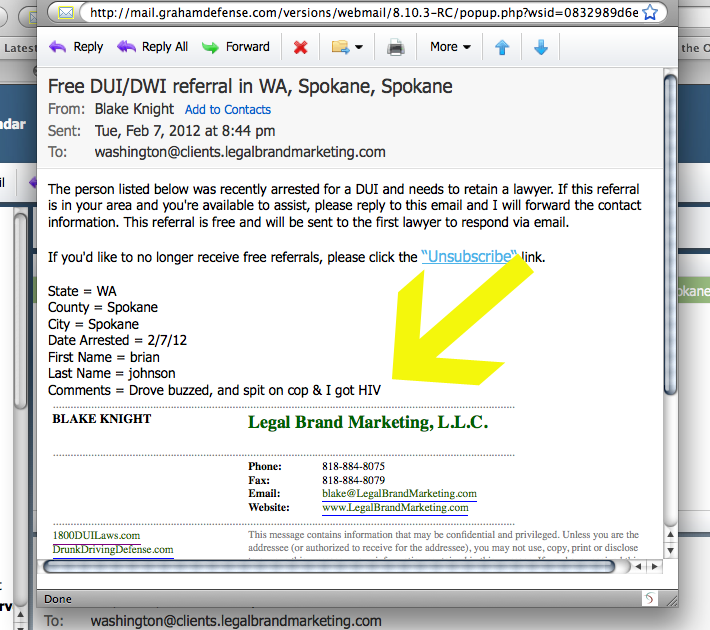 The websites view DUI suspects as a commodity, and then "flip" the clients to individuals lawyers for a fee. The problem is that the site doesn't even alert people that the information will be shared. The lawyers who receive this information aren't even necessarily DUI lawyers. These emails are broadcast all over the state. I receive about 10 or 12 emails per week from towns and cities all over. Many of the lawyers could be friends, neighbors, or relatives of the DUI suspect, and the lawyers are under no obligation to keep the information confidential. In Washington state, it is not uncommon for a lawyer to defend DUI cases in the county district courts, but to work as a part-time prosecutor in the local city or municipal courts. I have never done this, but the bar association does allow that. It is possible that a DUI suspect could have his or her DUI case information sent directly to the city prosecutor's email inbox.
When I conducted the experiment in north Spokane, I encountered many fake websites pretending to be DUI law firms.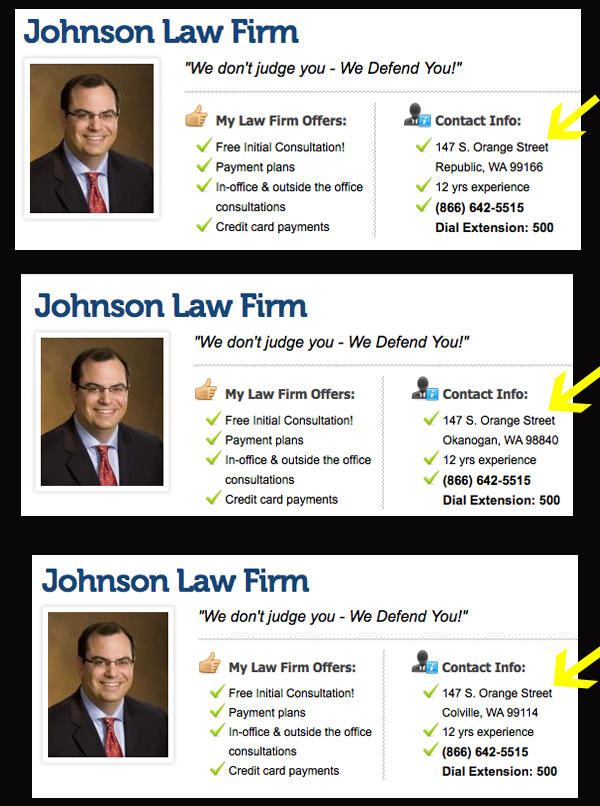 One other site worth mentioning is the fictitious "Johnson Law Firm".  This "DUI law firm" is mysteriously located at the "147 S Orange street" all over America. As we can see from the adjacent photograph, the "dui law firm" is located at 147 S Orange St in Republic, WA, Okanogan, WA, and Colville WA. It is also located at 147 S Orange St in Topeka Kansas, and also at 147 S Orange St, in Topeka, Illinois.  (Yeah, I didn't know there was a Topeka, Illinois either.)  Basically, there are webpages for fake DUI law firms in about 40,000 American cities.  There are about 244 such dui law firms in Washington State, including a law firm at "147 S Orange St" in Addy, Northport, Tonasket, Chewelah, Brewster, Bridgeport, Springdale, Oroville, Kettle Falls, Twisp, Winthrop, Marcus, Valley, Loon Lake, Omak, Peteros, etc. All of the websites have the same street address, the same photo of "Mr. Johnson", and the same testimonial about what a great DUI defense lawyer the guy is.
So naturally I was curious about this "law firm", and so I called the 1-800 number. My plan was to tell them that I was on my way over to see Mr. Johnson, and I was lost, and was trying to find this 147 S Orange street address in Colville, Washington. When I called the number, the phone rang to some overseas call center, and the man who answered the phone didn't speak the greatest English. He did seem earnest enough, so rather than give him a hard time with lots of questions, I just let him take down my contact information. I left the number for one of my tracfones. The next day I got a couple calls and emails from a bunch of lawyers, some of whom I knew.  I then revealed my real name, and told them I was just screwing around, and that they shouldn't pay the referral fee.  The lawyers had signed up for the referrals but didn't seem to know where exactly the referrals were coming from.  They didn't know who Mr. Johnson was.
DUI work can be complicated, and there is a lot a person needs to know to do a DUI jury trial, or to try to suppress the breath test, or to fight to keep a person's driver's license.   The work is very technical, and using these sites, a person might find a skilled lawyer or they might not. The danger of these websites is that they simply refer the cases to any lawyer who is willing to pay the referral fees.
Writers Note 2/21/12:  I received a comment criticizing this post for its insensitivity to people with HIV.  I was trying to reveal how much sensitive date could be revealed here, not to make light of the situation or exploit the shock value of this health condition.  I apologize for not handling this in a more sensitive manner.  Also, I should note that the company no longer includes case "comments" in their email blast to all the lawyers.  However, the company still sends out everyone's name and the city they are from.
Defense lawyers in eastern Washington are seeing more and more people charged with DUI with breath alcohol levels of under .08.   Under Washington law, a prosecutor can convict on a DUI if a person is over .08, or if the individual is "affected" by the alcohol.  This second option is referred to in court as the "affected by" prong, and defendants are usually pretty surprised to learn the law on this subject.
For years this second prong was largely ignored by prosecutors, meaning if a prosecutor didn't have a breath test or blood test result of over .08, no charges would be filed.
Legal Strategies on DUI Charges < .08
The strategy a defense lawyer uses on a DUI under .08 can be dramatically different than other DUI's.
Traditionally, a defense lawyer will fight tooth and nail to try to exclude the breath or blood test, or to try to get the test results "thrown out of court." However, if a defendant has an alcohol level of under .08, it will often be the defense lawyer who will fight to have the results admitted.  In the perception of some jurors, a test result under .08 means the defendant "passed" the test. When a prosecutor takes a DUI to trial and the BAC (blood alcohol content) is under .08, he or she usually will attempt to prove that the defendant is "affected" by the alcohol by showing that the defendant did not do very well on the roadside filed sobriety tests.  But as you can imagine, these sort of test are highly subjective.  In my practice as a defense lawyer, I often will request a copy of any video showing the defendant on the night in question.  Usually the defendant will be shown to be in far better shape than the police officer might suggest. Many jails will have video recordings of the defendant when he or she was booked or when he or she took the breathalyzer or breath test.  It is important to have an attorney request this video right away because usually the jails will record over it within a matter of days if it is not preserved.  Even if the arrest is made by the State Patrol, it is the local county or city that keeps the video. Some police stations (such as the Grand Coulee police department in Grant county) do not have video in the BAC room.  Other sources of video evidence is any video camera the officer might have in his or her car, and sometimes officers will wear a "body cam".  In more metropolitan areas like Spokane, security camera video footage might exist from nearby businesses.  This is less common on the rural roads of Stevens or Lincoln county, but even towns like Colville or Davenport have businesses with security systems monitoring their parking lots.  If a defendant is truly intoxicated, such evidence can be very incriminating because it will show the person staggering or loosing his or her balance. However, in cases with low alcohol levels, such video footage is crucial to the defense.
Strategies Prosecuting Attorneys Use
When a defendant has a breath test under .08, the prosecuting attorney will sometimes argue that the defendant's alcohol level was actually higher at the time of the traffic stop.  A human body will burn off .015 alcohol per hour on average.  So if a defendant is stopped at 9 p.m. and blows .070, the prosecutor will argue that he or she was actually .085 at the time of the stop at 10 p.m.  Sometimes in DUI trials, the prosecutor will call toxicology experts from the state lab to come testify on this subject.  In large rural counties such as Lincoln County, Adams County, of Grant County a defendant might have considerable travel time to get to a breath instrument.  However, it is possible that a person got behind the wheel and was stopped prior to full absorption of any alcohol consumed.  Usually all alcohol will be absorbed between 2 and 20 minutes after drinking.  More urban counties such as Spokane might have more than one breath test instrument, but in rural counties such as Lincoln County, Adams County, or Grant County, the police have fewer options.
There are breath test instruments in the county seats of Davenport, Ephrata, and Ritzville, WA, and sometimes in the smaller cities.  Some counties, such as Okanogan County, have breath instruments at the Tribal jails on the local Indian reservation.  These instrument are located on sovereign land, but are still owned and maintained by the WSP and Toxicology lab.  In Grant County, Washington, there is also a mobile BAC unit.
PBT Tests in DUI Cases
When the police stop a person for DUI or DWI, they will usually ask a suspect to blow into a portable breath test or PBT.  These PBT's are not very accurate, and the results are not admissible at the jury trial.  When the police stop someone they will usually either arrest someone or let them drive off.  This can be a hard decision for the police.  If they improperly allow someone impaired drive off, they could face a lawsuit.  However, if they arrest improperly, they could also face a suit.  As a criminal defense lawyer, I worry that fears of false-arrest lawsuits might motivate the police to exaggerate a suspect's intoxication.  In decades prior, police may have simply given the defendant a ride home if they were not sure of their impairment, but those days have come and gone in eastern Washington.
In DUI cases involving alcohol levels under .08, prosecuting attorneys will usually be quick to make plea offers of reduced charges down to negligent driving first degree.  However, such a plea deal will count as a prior alcohol related offense in case someone ever gets into trouble again.  Convictions for Negligent Driving First Degree can also make entry into Canada difficult, and can affect a commercial driver's license.  Under a new law that went into action September 1st, the Department of Licensing may require ignition interlock devices for Negligent Driving or Reckless Driving under certain circumstances.
For more information about DUI, see here.
Last month in Marijuana DUI (Part I), we discussed the extreme difficulty the scientific community has had in measuring the effects of marijuana on a person's ability to drive. In part two of this blog post, we now turn to the practical difficulties criminal defense attorneys face in defending marijuana DUI charges.
Jury Selection on a Marijuana DUI Case
As a starting point, it is pretty much the experience of every defense lawyer that jurors tend to analogize marijuana to alcohol when it comes to DUI.  As we discussed last month, there is no .08 limit for marijuana for THC.  Consequently, jurors cannot convict a person based on a "number" alone.  The criminal cases then turn when the prosecuting attorney proves that the person was actually impaired by the marijuana use.  But how does marijuana impair a person's ability to drive?  Jurors have a wide range of views and experiences on this subject. Many jurors have never used marijuana, and so they are inclined to think of it in terms of drugs they have tried such as alcohol or prescription pills. Additionally, some jurors may have used marijuana in their youth and experienced a strong, somewhat hallucinatory experience as a first-time user. As one would imagine, asking prospective jurors about their experience with illegal drugs can be a little awkward.  In urban environments such as Spokane or Seattle, jurors have a bit more anonymity during the jury selection process. However, in rural locales such as Okanogan County, Stevens County, Lincoln County, or Grant County, jurors are much more inclined to actually know one another.  A defense lawyer or a prosecutor is just not going to get a straight answer out of the jury panel on the subject of marijuana use.  Additionally, jurors in those rural counties such as Okanogan or Stevens County are going to have, on average, less accepting views toward marijuana use as a whole than say Seattle, for instance.
Marijuana Use and Observation of the Police
A prosecution for a marijuana DUI usually involves a police officer testifying about the ways he or she believed that a driver was effected by marijuana or THC.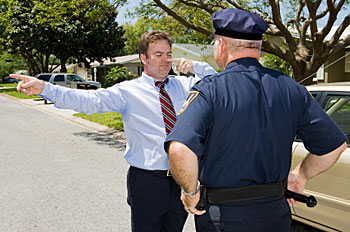 Jurors come to court knowing what a drunk person looks like, but often have no idea about the ways marijuana effects (or doesn't effect) a person. Drug recognition experts (DRE's) usually testify that a driver having consumed marijuana will have dilated pupils, red or bloodshot eyes, a lack of convergence of the eyes, an elevated pulse rate, elevated blood pressure, eyelid tremors, and disorientation. Compared to DUI involving alcohol, much less is taught about marijuana DUI investigation at the police academies. Officers seem to exchange tips on these investigations, and the techniques are frequently the subject of discussion in online police forums, see here, for example. Much of what the police study comes from the NHTSA manual Drugs and Human Performance. Unfortunately this volume is full of some pretty odd opinions and discredited techniques on such investigations. The manual mentions the "green tongue" phenomenon, or green coating on the tongue that a smoker of marijuana is "supposed" to have.  Additionally, the manual opines that marijuana cigarettes "are often laced with adulterants including PCP or crack cocaine," which is something I certainly don't hear about "often" in my practice as a defense lawyer. Officers often describe looking closely with their flashlight for flakes of marijuana that might be on drivers' laps, or remain on the tongue or mouth of a user after smoking a marijuana cigarette.  Officers also seem to be of the opinion that hanging tree-shaped air-fresheners indicate that the driver has been using marijuana, according to above mentioned forum.
So as you can see, the current state of marijuana DUI enforcement leaves much to be desired.  The practical effect of all this is that drivers are often at the mercy of the subjective opinions of the officer as to how he or she looked.  These "evaluations" for marijuana intoxication are typically not video-recorded.
What do you think about how society should deal with this issue?  Please share you thoughts, opinions, or experiences on this subject in the comment section below.
(The author Steve Graham is a criminal defense attorney practicing in eastern Washington.  See his further information on the laws DUI or marijuana in the State of Washington.)
What is a "marijuana DUI"?  What does it mean to be "under the influence" of marijuana?  What is the safe level, and how is it measured?  How are marijuana DUI's defended?
Law enforcement in the last few years has really been pushing investigations and arrests over so-called "marijuana DUI's."  In this two-part blog post we will look at how marijuana affects a person's ability to drive, and more importantly, how it does not.  Today we will discuss the scientific studies, and then we will come back in a couple of weeks to discuss more law, and how marijuana DUI court cases work for a defendant and the criminal defense lawyer.  It is illegal under Washington State  law RCW 46.61.502(1) to drive "under the influence" of any drug.  "Under the influence" is typically defined as when the person's ability to drive "is affected to an appreciable degree."  There is no .08 equivalent for marijuana.  In each case, a police officer must prove "under the influence."   Let's turn to the subject of the scientific studies.
Professor Harry Klonoff Experiments in 1973
In 1973, Professor Harry Klonoff of the University of British Columbia decided to run experiments on the effects of marijuana on a person's ability to drive a motor vehicle. Professor Klonoff provided marijuana cigarettes that contained .7 grams to his subjects, and he instructed them to smoke the marijuana by inhaling for 3 seconds, and holding it in their lungs for 15 seconds, and then exhaling and then resting for 15 seconds until the cigarette was completed.  Since the test was "double blind," he had half the group use a placebo form of marijuana.  He then sent the test subjects out on a driving course, and then later sent the drivers out into rush hour traffic in the city of Vancouver, B.C.  (Yeah, I know, it is hard to imagine the city of Spokane allowing such a test today).  The only apparent safety precaution was that the vehicles used were "dual control," so the cars had driver's-education style brakes on the right-hand side where a professional observer sat.
The study was extremely complex with a number of different variables, methods of scoring, and scientific controls. Professor Klonoff concluded that for some drivers the use of marijuana hurt the individual's driving ability.  However, the study also found that some drivers performed better after smoking marijuana.   Dr. Klonoff wrote:
It is evident that the smoking of marijuana by human subjects does have a detrimental effect on their driving skills and performance in a restricted driving area, and that this effect is even greater under normal conditions of driving on city streets.  The effect of marijuana on driving is not uniform for all subjects, however, but it is in fact bidirectional; whether or not a significant decline occurs in driving ability is dependent both on the subject's capacity to compensate and on the dose of marijuana.  For those subjects who improved their performance, the explanation may lie in overcompensation and possibly the sedative effect of the drug.
The biggest takeaway from Dr. Klonoff's study is that marijuana does not have a predictable negative effect on a person's ability to drive. Consequently, it is very difficult for any principled expert to testify in a court of law that a person was affected by the marijuana in any certain way. If you want to look up the article at your local medical school library, the citation is: Klonoff H. Marijuana and Driving in Real-Life Situations. Science 1974;186(4161);317-24. Klonoff's test pretty much carried the day in the scientific community until a similar test was run in Maastricht, Holland two decades later.
The Maastricht Studies of 1993
In 1993, the U.S. Department of Transportation sponsored a study done by the Institute of Human Psycho-pharmacology at the University of Limburg in Maastricht, Netherlands.
Like the Klonoff study, the Maastricht study was done by providing marijuana for the test subjects to smoke, and then monitoring their ability to drive.  Doses were provided in the THC amounts of 0 (control group), 110, 200, and 300 ug/kg.  The subjects then drove through a closed roadway and then a roadway with traffic present. As with the Klonoff study, vehicles with "redundant controls" were used as a safety precaution. In the executive summary of the published study, the scientists wrote:
This program of research has shown that marijuana, when taken alone, produces a moderate degree of driving impairment which is related to the consumed THC dose.  The impairment manifests itself mainly in the ability to maintain a steady lateral position on the road, but its magnitude is not exceptional in comparison with changes produced by many medicinal drugs and alcohol.  Drivers under the influence of marijuana retain insight in their performance, and will compensate where they can (for example) by slowing down or increasing effort.  As a consequence, THC's adverse effects on driving performance appear relatively small.
The scientists had hoped to determine whether it was possible to predict driving impairment by the levels of THC in the drivers' blood. However, they concluded that the answer was "very clear" that this was not possible. They explained that some drivers were impaired  with both high and low levels of THC, and conversely some drivers with high levels of THC in their blood performed quite well. For more details see: Robbe HW, O'Hanlon JF. Marijuana and actual driving performance. US Department of Transportation/National Highway Traffic Safety Administration November: 1-133 (1993). DOT HS 808 078.  The study failed to provide clear guidance to the U.S. government on marijuana DUI policy.
The Grotenhermen Study of 2007
The last study to look at is the research report entitled "Developing Limits for Driving Under Cannabis" published in 2007 in the journal for the Society for the Study of Addiction.  That study again tried to determine a limit for THC levels in a driver's blood that would be similar to the .08 limit for alcohol DUI charges.  The scientists compared a THC blood level of 4.2 ng/ml to driving with a blood alcohol level of .04.   The study explains that the margin of error in testing is great with a confidence interval  of 3.1 to 7.7.  Due to such a large margin of error, the study suggests that a legal limit be set in the amount of 7 to 10mg/ml for blood.   Rather than base the study on driving tests, this study based its conclusions on studies done on individuals who had had their blood tested after a crash.
The Challenge to Defense Lawyers
Many jurors have difficulty understanding the way marijuana affects the human driver.  Jurors' knowledge and experience with marijuana will vary significantly, and it can be awkward to ask about marijuana use during jury selection.  Juror views on marijuana can vary sharply between metropolitan areas like Spokane, and more rural areas like Okanogan or Colville, Washington.  Jurors usually try to analogize other drugs to alcohol, which jurors are more familiar with.  However, the effects of marijuana are very different from alcohol.  Criminal defense lawyers also have a steep learning curve in understanding the science of marijuana intoxication.  A defense attorney should consider hiring or consulting with an independent toxicologist.  Due to the complexity of the science of marijuana use, it is a challenge to all the participants of the criminal justice system.  Because the science is so vague, the representatives from the Washington State Toxicology Lab usually testify about the ways THC is "likely" to affect an individual.  The Washington state toxicologists typically base their testimony on the National Highway Traffic Safety Administration's manual entitled "Drugs and Human Performance Fact Sheets."  That manual cautions "It is difficult to establish a relationship between a person's THC blood or plasma concentration and performance impairing effects. Concentrations of parent drug and metabolite are very dependent on pattern of use as well as dose."  In light of the difficulty in interpreting blood test results, marijuana DUI charges often come down to officer testimony and the field sobriety tests.  We will discuss this aspect in part two of this blog post.
(The author Steve Graham is a criminal defense lawyer practicing in eastern Washington.  See his further information on the laws of Marijuana and DUI in the State of Washington.)
Before we turn to Anne Bremner, who remembers Randy Dorn's DUI?  Randy Dorn is the State's School Superintendent who avoided a publicity circus surrounding his DUI earlier this year by simply marching in as soon as he could and pleading guilty.  See earlier blog post. It appeared at the time that Randy Dorn plead guilty straight-up to the DUI rather than hold out for a reduced charge, simply to avoid the appearance that he was receiving any special deal.  In contrast, look at the media storm that Seattle Lawyer Ann Bremner has caused by her DUI. She initially blamed her erratic behavior on a concussion, then raced to court to attempt to prevent release of the police reports.   This was the subject of the Seattle Weekly Blog this week.
Rick Anderson writes: "It would subject her to embarrassment and ridicule if police records are released to the press about her arrest for drunk driving, says popular Seattle attorney Anne Bremner. Instead, she has chosen to be embarrassed and ridiculed for not releasing those records. For such a media-savvy attorney with an impressive legal background, it appears she has already lost in the court of public opinion."
You really have to wonder what Anne was thinking in trying to go to court to stop the release of her police reports and 911 calls.  Washington has some of the toughest public disclosure laws in the U.S.  Rick Anderson goes on to write: "For a smart and creative lawyer whose client list includes cops and other public officials, the brain-damage excuse – while an oldie and a goodie – isn't much of a defense. It's a sure-fire headline maker, in fact. Of course, we're assuming that wasn't her intention."  I guess I am not sure I agree with Rick Anderson that we can assume that that was not her intention.  You often hear the expression that "there is no such thing as bad publicity."  I am sure this is true for hip-hop artists, but is it true for high-profile defense attorneys?  In this day and age, negative publicity seems to dominate the media's interest.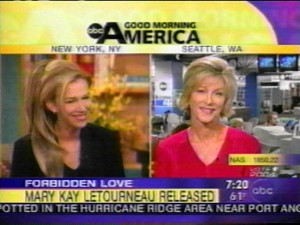 I really doubt if Anne Bremner gives a hoot about her name in the paper for a DUI arrest. While she may not be a rap star, she certainly is not the elected school superintendent, and I doubt if her clientele would really care about a DUI conviction.   Let's face it, defense attorneys are not always the most adored members of society.  The public associates us too much with the clients we represent.  Our work might be viewed as a constitutional necessity, but we do not hold ourselves out as roll models.    I thought of this today when I read in the Seattle-Times that the police had released the police reports of her DUI arrest. (The Seattle-Times posted the reports online here.)  As police reports go, the arrest is pretty run of the mill.  You can tell she is a criminal defense lawyer because she knows enough to refuse to take the field sobriety tests or to waive her right to remain silent.  And like most people who are arrested for DUI, she sounds as if she was a real pill for the police to have to deal with.  The police attempt to portray her as throwing her weight around, and boasting that she is "famous".  But I half wonder if the police don't sometimes embellish these sort of statements.
The elected school Chief Randy Dorn plead guilty to DUI today in Orting Municipal Court today.  Already in the comment section of article in The Olympian, the public is jumping on him for setting a bad example.  One person posted the comment: "The kids are saying 'see, it can't be too bad if our schools leader does it'."   That seems like a stretch – I am sure the kids really don't give a hoot about the State's elected schools chief, or even know that we have one.  How many of you knew who Randy Dorn was?  Besides filling the pages of The Olympian, this seems like a non-story.
What is interesting about the story however, was the way Randy Dorn handled the whole thing.  He basically resolved the matter quickly, rather than let the scandal keep brewing.  In pleading guilty about ten days after his arrest, Randy Dorn seemed to be taking the advice of PR experts who spoke to
The Olympian
last week.  An
article
explained:
"How he handles it will more likely determine what the outcome will be than the action itself," said Seattle political consultant Cathy Allen of The Connections Group.  If convicted of the charge, Dorn, 56, will have to admit wrongdoing, apologize and promise to keep clean, she added.  "The public is pretty forgiving as long as (a politician) is apologetic and takes steps to make sure it never happens again," Allen said. But public officials who try to justify their actions – or, worse, lie about them or ignore them – can find themselves in trouble, she added. In those cases, she said, "the court of public opinion can come down pretty hard."
The interesting thing is that Randy Dorn plead guilty "straight up" meaning he did not get the charge reduced.  I am sure other Washington lawyers would agree, just about every DUI that comes in on someone who only blew a .11 would get reduced to Negligent Driving First Degree, if they are 56 and have no priors, and no accident resulted.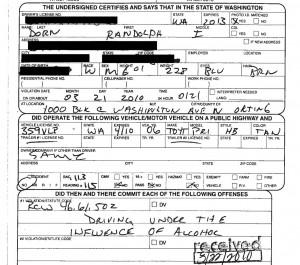 Negligent Driving First Degree is driving negligently while exhibiting the effects of having consumed alcohol, and this crime counts as an alcohol related offense.  Usually it is the repeat offenders in Washington that get really hammered  in court.   Is it possible that Randy Dorn turned down a plea offer to reduce the charges just to avoid allegations that he is avoiding accountability?  I have blogged in the past about how public officials sometimes get accused of getting special deals on DUIs even when they were treated like everyone else.  See
here
.  The funny thing is even the City Police Chief of Orting commented to the media that the charge may be reduced.  See prior
article
.  It looks like Randy Dorn would have pleaded guilty to the offense no matter what just to get the matter done and over with before the time he is up for re-election in 2012.
In the last ten years, police in Washington State have paid a lot more attention to the problem of drugged drivers.  A rookie cop can detect a driver who has drank too much alcohol, but it takes a little training and experience to determine if a driver has been using controlled substances such as cocaine, methamphetamine, marijuana or prescription pills.   After completing certain training, an officer can become a Drug Recognition Expert or "DRE".   We have many such DRE's here in Washington, especially in Spokane.  The problem is that people are catching on that the so-called drug recognition "experts" really are basing their opinions on many things we do not really recognize as science.  Take for example, the green tongue phenomenon.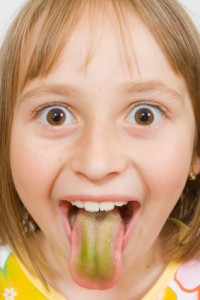 The National Highway Traffic Safety Administration warns of the following characteristics of a marijuana DUI: "… characteristic indicators may include odor of marijuana in car or on subject's breath, marijuana debris in mouth, green coating of tongue, bloodshot eyes, body and eyelid tremors, relaxed inhibitions, incomplete thought process, and poor performance on field sobriety tests."  Criminal defense lawyers are not the only ones questioning the validity of this "green tongue" thing.  The Washington Court of Appeals also questioned whether a green tongue establishes probable cause for anything.  The court agreed with the defense lawyer that no probable cause existed, explaining:
Trooper Lane contends that a green tongue is indicative of recent marijuana use. Even assuming he is correct, the absence of any other indicators of recent marijuana usage, combined with the many innocuous ways to get a green tongue, indicate a lack of reasonable suspicion.  Although we assume the officer's assertion to be true for purposes of this opinion, we are nevertheless skeptical as to its accuracy. We find no case stating that recent marijuana usage leads to a green tongue. The only case we could find that remotely supports such a proposition is State v. Baity, 140 Wn.2d 1, 991 P.2d 1151 (2000), wherein the opinion's fact section mentions that the defendant, who had admitted to recent marijuana usage, also had a green tongue. Beyond this observation, however, the court never analyzes whether the green tongue and the recent marijuana usage are linked. And the officer who made the observation does not assert a connection between the two.
To you non-lawyers out there, that is the Court of Appeals basically politely telling the Washington State Patrol DRE's that they are full of baloney.  These "experts" are often very well-trained and seemingly professional, and can be very convincing to jurors.  I defended a drug DUI one time where a DRE from Okanogan County claimed he had probable cause to believe that the driver was under the influence of marijuana.  The DRE wrote in his report:
"He had raised taste buds on the back of his tongue with a green coating on his tongue.  His lips were burnt and crusty on top and bottom lips.  … His thumb and index fingers of both hands were discolored.  The discoloration on his fingers and lips was consistent with holding hot smoking pipes."
This seemed a little fishy to me, and I eagerly awaited the toxicological report on the blood test.  The results indicated that there was absolutely no marijuana (even in trace amounts) in this driver's blood.  Instead there was methadone found in the drivers blood, just as it was found in his car.
Is there any system of accountability for the DRE's out there?  Is anyone keeping track of all the times the DRE's got it wrong?   The Supreme Court in Utah is also catching on.  In a court opinion State v. Hechtle, they explained:
We are troubled by the trooper's reliance on the appearance of Hechtle's tongue as dispositive proof of marijuana use. Even if we were persuaded to accept the State's position that the condition of Hechtle's eyes and tongue are presumptively suggestive of marijuana use, nothing in the record indicates either how long these conditions are sustained or how long measurable quantities of marijuana remains in the system as required by the statute.
So, I guess in some sense, the system is working – courts are catching on.  But on the other hand, what other aspects of DRE "science" are slipping past us all?
Police, judges, and other public officials often mess up like the rest of us by getting a DUI.   The cases inevitably make the newspaper, as well they should.  However, I am often a little surprised by how the media portrays DUI cases that are resolved with a "deferred prosecution".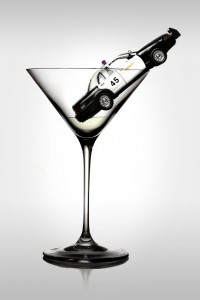 A deferred prosecution is when a DUI defendant gives up his right to a jury trial, and the case is continued for five years.  The defendant gets fives years of probation and alcohol treatment, and if he stays out of trouble then he may have the case dismissed at the end of 5 years.   Under Washington law, any DUI defendant is eligible for a deferred prosecution if he or she has not had one before.  So why is it that the news media portrays this as some sort of special deal reserved for people with "connections".   For example, look at this headline in the Spokesman-Review: "Police Sergeant Avoids Prosecution".   The article goes on to explain that the defendant has to go to alcohol treatment and stay out of trouble for five years.   How did the public react to this story?  Let's look at the comments to the story that are posted online.  "Tinman" wrote: "WHERE DO I GET ONE OF THOSE "GET OUT OF JAIL" CARDS FOR MYSELF??!!"   The answer is any district court in the State!  The forms are online here!  Last summer a city manager in Burien signed up for a deferred prosecution for a DUI, and the headline read that the judge "granted" the deal.  An angry comment read: "It seems we have a two tier judicial system, one for the rich/politician and one for Joe six pack."  The truth is that the deferred prosecution is easy to sign up for, but difficult to complete.  The treatment is rigorous, and the conditions of probation severe.  Random UA tests are done that can detect alcohol use within a period of 72 hours.  People who complete the programs are in the minority.  I remember when I was a prosecutor, the judge and I were always glad to see someone successfully complete such a program.  Now that I am a criminal defense attorney, I always make sure that my clients know what they are getting into when they sign up for such a program.  It is truly for people who wish to quit drinking.
Let's face it, when people generally look for an attorney, they are looking for an attorney to really shine when it comes to the trial or maybe at a motions hearing.  You don't really hear people say that you should hire so-and-so because they are "really good at arraignments."   Yet, I have found arraignments to be very important to clients for the following reasons: 1) Defendants sometimes appear for an arraignment before hiring or speaking with a criminal defense attorney,  2) The arraignment is often the client's very first appearance in court, and 3) The arraignment can often be intimidating because it is often on a crowded docket day, when many people are watching.
Arraignment on DUI Charge: Although you might suspect the arraignment of a major felony to be the most complicated, arraignments on DUI charges are often the most complex.   While some arraignments can be waived by counsel, a DUI charge typically requires that the defendant appear in person to have conditions of release set.   Like any charge, an arraignment on a DUI charge involves a formal plea of "guilty" or "not guilty".   Because a plea of "guilty" requires a lengthy plea form, such a plea would likely be set off to a future date.  The court at DUI arraignments will set certain conditions of release if they have not been already set.  The court will typically prohibit a defendant from consuming alcohol or drugs without a prescription.  Additionally a court will often forbid a DUI defendant from being present in any location where alcohol is served for consumption on the premises.   This largely restricts a person's ability to go out to eat, because a lot of restaurants in the small towns in Stevens, Ferry or Okanogan County have class H liquor licenses.
Arraignment of Drug Cases: On misdemeanor drug cases, an arraignment can often be waived if a person has hired a defense lawyer and the lawyer files a notice of appearance.  In the courts of Ferry County, Stevens County, and Pend Orielle County, you see the growing practice of courts requiring pre-trial UA tests.  I believe that public funding has become available so that if a person is indigent, the county will pay for the testing.  The idea of pre-trial UA tests is obviously preferable to being held in jail prior to trial, but it is usually not a popular requirement.   The UA's typically can detect marijuana use within a few weeks and alcohol use for about three days.   Typically, when a person signs up for the UA tests, they are assigned a specific color code.  The person is then ordered to call in by a specific time to see if their color has been chosen for that day.  If it has, the individual must appear for the test by a certain time later that same day.  This responsibility can be problematic because if a person lives in a remote location of  Okanogan County or Stevens County, for example, they may live an hour or more from the testing facility.  They would unexpectedly need a ride to court.  In certain cases, a person may test positive for marijuana due to use of the drug prior to arrest.  Additionally, a person may test positive for opiates due to use of prescription drugs of hydrocodone or oxycontin for example.  A copy of a valid current prescription must be kept at hand.
Arraignment on Violent Offenses:
Arraignment on a violent offense is procedurally much like arraignments on DUI or drug offenses.  For all felony charges, the court will ask the defendant to sign an advice of rights form acknowledging that they understand their constitutional rights.  During the arraignment it is important that no statements are made that could be self-incriminating.  It is the natural human reaction to explain one's actions.  However, the arraignment is not the occasion for the court to determine the accuracy of the charges.   This idea can often be confusing for a defendant, because the prosecuting attorney will likely summarize or paraphrase the police reports in an attempt to secure a high bail.  And the defense attorney will often attempt to argue the weaknesses of the State's case based on the limited information available.  However, this dialogue is much different than a defendant attempting to make a first person explanation so as to counter the allegation at hand.  Such statements by the defendant could be used in court at a subsequent jury trial, and often times the judge will interrupt the defendant if he or she attempts to explain the incident that forms the basis of the charge.  Unlike arraignments for DUI or many drug offenses, the court will often impose bail as a condition of release on such violent offenses as assault, robbery, or sex offenses.  Under the Washington State Constitution, the judge cannot hold a defendant without bail on any offense other than capitol offenses.
So if you are interested in exactly how a Superior Court arraignment will go, it usually goes pretty much like this:
Step 1:  The judge calls the case title "State v. Smith", for example, and then recites the court case number, before inviting the defense attorney and his or client to approach counsel table.
Step 2: The judge will ask the defense attorney if he or she has gone over the advice of rights form with his or her client, and if the defense lawyer believes that the defendant understands the rights.  The prosecution often signs the form before the defense lawyer approaches the bench with the form.
Step 3:  The judge will ask the defense lawyer if the defendant "waives reading" of the "information" which is the court term for the criminal complaint or charging document.   The accused person has a right to have the charges read to them verbatim under the Constitution.
Step 4:  Once the defendant waives reading, the judge will ask the defendant to stand and will ask for example: "To the charge in count one, possession of marijuana, how do you plead? Guilty or not-guilty?"  The defendant responds.  The judge then asks: "To the charge in count two, possession of cocaine, how do you plead?"  Etc.  Sometimes, the only speaking a defendant will do at an arraignment is to say "yes" that he understands his rights, and to say "not guilty" once the charge is read.
Step 5:  The judge will then hear argument as to the conditions of release to be set.  The judge will hear from both lawyers, and then ask the defendant if he or she agrees to abide by those rules.
Step 6:  The judge will often sign a scheduling order providing for the court dates to come.  The judge will set a date for an "omnibus hearing", a "status hearing" or a "pre-trial hearing" and a jury trial.  An omnibus hearing is the date for the prosecutor and the criminal defense attorney to declare what evidence they intend to use, what witnesses they intend to call, and what defense will be offered.  Sometimes a defendant will not need to appear for an omnibus hearing.  This is a good point to clarify at the arraignment.  A status hearing or a pretrial hearing is a date to confirm the readiness of the parties for trial, and this hearing can go by many different names.   Often times, a client will ask me what the purpose of a particular hearing is, and the short answer is often "that this is a court date to talk about future court dates."  That might sound a little silly, but that is our court system for better or for worse.  The last thing I will say about the scheduling order is that a defendant should bring his or her calendar.  If they are unavailable for court due to a surgery or a final exam for example, they should make that known at arraignment, because rescheduling it later can be difficult for the defense lawyer to do.
There are not any video arraignments of Washington Courts that I could find, but below is an arraignment on a murder case off of youtube.
A couple of days ago I received in the mail the Washington DUI Practice Manual, a book by DUI attorney Linda M. Callahan and published by West Publishing, Thomson Reuters.  This most recent copy is the 2009-2010 edition, which is the second such volume.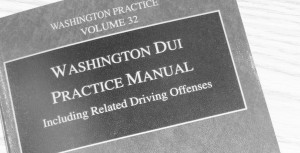 I believe that last year's edition was the first time that Thompson Reuters published a Washington Practice volume on DUI law.  It is an important edition to the West Washington Practice series.
I have purchased or borrowed many other DUI law books over the years, and I have not found any other books that are as helpful or informative as this book.   With others I have looked at, it has seemed that the material was outdated, or not applicable to Washington State, or that the authors were saving their best strategy ideas for themselves.  The Washington DUI Practice Manual covers it all, it is geared toward Washington State, and it is updated every year.   It is not cheap to buy a new volume every year, but it is worth it to stay on top of the latest changes in DUI practice.  DUI law is considerably different from other areas of criminal defense work in that it changes from year-to-year, and is largely dependent on the scientific reliability of the testing involved.
A DUI case usually begins with a stop by an officer for a traffic infraction, and the officer requests that the driver perform field sobriety tests.  In this book, chapter 21 is dedicated to the science of such tests, and making sure that the tests are administered correctly, and that the jury understands the limits of such tests.
Author Linda Callahan also covers the science of the PBT, which is the portable breath test that an officer typically asks the driver to take while still at his vehicle.
The results of this test are not admissible at trial, but can be considered by the judge in determining whether the officer had probable cause to arrest the driver.  Linda Callahan's book covers the history of the PBT instrument, the requirements  for its use, the certifications necessary to operate it, and the admissibility of the refusal to take such a test.
Attorney Linda Callahan covers the important information on the tests for alcohol that occur later in a case, namely breath testing and blood testing.  As many are aware, the accuracy of the breath test instruments was called into question recently due to deficiencies in the State Toxicology Lab. (See article.)   Linda Callahan also covers the difficulties that the State Toxicology Office has faced since audits revealed a failure to abide by the rules, regulations and policies regarding the handling of  blood samples.
In addition to DUI defense, the Washington DUI Practice Manual also covers related crimes such as Reckless Driving, Negligent Driving, Hit-and-Run, Reckless Endangerment, Driving While Suspended, Boating Under the Influence, Minor in Possession of Alcohol, Felony Eluding, Vehicular Assault, and Vehicular Homicide.
In this book Linda Callahan also covers the separate proceedings that a driver faces with the Department of Licensing (DOL).  Every year the State Legislature changes the laws governing DOL, and a criminal defense lawyer needs to be aware of the changing laws on license suspensions, SR-22 insurance, and ignition interlock devices.  The Department of Licensing conducts their own hearing on whether a driver had over a .08 breath alcohol or blood alcohol level.  This year a new law went into effect allowing some suspended drivers to obtain an ignition interlock license, and that new legislative change is covered in Linda Callahan's book.
I would recommend this book to any lawyer who does DUI defense.  I understand that Linda Callahan has also published a book geared toward laypersons entitled The DUI Book, Washington Edition.