In today's Doonesbury cartoon in the Spokesman-Review, Alex Doonesbury starts an argument with some guys wearing guns in a coffee shop.  They respond by implying that her boyfriend Leo is not manly enough to pack a gun.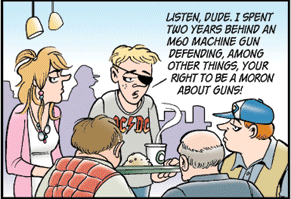 Leo is an Iraq War vet and he puts them in their place.
I blogged last summer about the open carry movement in rural Washington, and I have been tracking it for about 3 years.  When I wrote that blog post last summer, I really thought more would come of the movement in rural areas.  However, it really seems to be more of an urban thing.  It seems as if the open-carry advocates are focusing on the Seattle and San Francisco Bay areas.  Check out a good article in the Seattle PI about the subject of Starbucks' decision not to prohibit open-carry in their stores.  See here.   The odd thing about this issue is that I think a lot of urbanites assume open-carry occurs in rural areas.  I live in a very rural area with no local gun ordinances, and I literally do not recall a single instance of open carry here in the 15 years that I lived here.   I have obviously seen people armed at the gun range, out hunting, or even on their own property in Ferry, Stevens and Okanogan County.  But I have never seen someone just come into the supermarket or coffee shop bearing a side arm in open view.
To view the full Doonesbury cartoon online click here.  (Note that if you visit this cartoon after Sunday, you will have to click "previous" at the top of the cartoon to see Sunday's strip.)  Also, check out this youtube video.

Watching this video it is hard to tell who is supporting what side. Seattle is a weird place.
3 Responses to "Open Carry in Washington – Who Really Does It?"