On Tuesday, attorney Charles Wiggins visited Ferry and Stevens County in his bid to run for the State Supreme Court.  He is running against incumbent judge Richard Sanders.  I was invited to hear Wiggins speak, but wasn't able to attend because of my court schedule.  I would have liked to have met him, because the Wiggins / Sanders judicial race is by far the most interesting judicial race in the State.
Wiggins is a lawyer who has spent most of his career in private practice.  He was appointed by the governor to serve as an appeals court judge, but when he ran to retain his position he was he defeated in the next election.
Much of the focus of his website is critiquing Judge Sanders as being unethical.  I guess the main criticisms were 1) that Richard Sanders visited some inmates on a tour of a prison, and it turned out some of the inmates had cases pending before the court, and 2) that Richard Sanders issued a decision in a public records case that set a legal precedent for a pending case,where Sanders himself had a similar public records issue.
Sanders is pretty outspoken, and sometimes that gets him into trouble.  I first remember him irritating other judges when he spoke at an anti-abortion rally.  Usually, judges are slower to publicly address issues like that.  I remember when Sanders was running for judge in 1998, he was challenged by then Assistant Attorney General Greg Canova.  The Greg Canova campaign asserted that 38 of the 39 elected prosecutors supported him.  I actually think that number was 37, because I was an elected prosecutor then, and I did not support Canova, and I think there was one other besides me.  One of the thing that irks me about some judges, is when they fail to require that the government follow the same laws as everyone else.  Sanders often writes biting dissents criticizing such government actions.   I recall reading his dissent in Hillis v. Department of Ecology, in which he called the State's failure to comply with permit deadlines "scandalous".   Justice Sanders was also one of two justices to side with Ferry County on its GMA issues when we went to the Supreme Court in 2005.  Justice Sanders is often hard to predict, and if you really want to know how outspoken he is, you really need to check out a good Seattle PI story here.
The story explains how Sanders was at a Federalist Society meeting in D.C. and Sanders got tired of the U.S. Attorney General defending George Bush's treatment of Guantánamo Bay detainees.  Sanders stood up in the audience and yelled "Tyrant! You're a Tyrant" and then stormed out.  If you want to listen to this incident, check out it out here, and Sander's outburst occurs at 17 minutes and 28 seconds into the video.
I mentioned in a blog post earlier this month that Justice Sanders' Facebook fan page led all other candidates, he has almost 1300 fans.
I am on the road for court a lot, and I am too cheap to by a AT&T wireless internet card for my MacBook.
So that means I am constantly looking for a coffee shop with  good Wi-Fi signal.  And they are harder to find then you might think.  So I figured I would start an on-line list.  Please email me or comment if you know of others.  I am only interested in coffee shops with free wi-fi in the 509 area code.  Urbanspoon.com has tried to catalog the free Wi-Fi coffee shops here, but tons of good shops are missing.  You will note that that site has a place where you can nominate othersites for inclusion, but they have not added any of my suggestions, and it has been 6 weeks. 🙁
In Colville, Washington, check out Cafe 103 – This place is in Colville on Main Street, 103 North Main in fact.  Check out their Facebook page here.   Cafe 103 has good free high-speed wi-fi, and good coffee, and a restaurant.  I have only had a sandwich there one.  Also check out Fairy Tale Bakery – This place doesn't have a big web presence, but their Merchant Circle page is here.  They have free wi-fi, and good coffee and food, and maybe more pastries then Cafe 103.  Since they are just 4 or 5 blocks from Cafe 103, the Fairy Tale Bakery is probably their main competitor.  I don't know which is better, but I know the Fairy Tale bakery is closed on Sundays and Mondays.  They are at 576 North Wynne, and it is one block North of Safeway.
In Chewelah, check out the Cougar Bakery, which just opened up where Treffz used to be.  In fact, the Treffz sign is still up.  I just got a coffee there Sunday, but didn't try their food.  But its got Wi-Fi and is just one or two blocks off of HWY 395, so I am definitely putting them on this list.  They are at 209 East Main St.   You gotta love their minimalist web presence, here. UPDATE FROM 11/27/10: THIS PLACE IS NOW CLOSED.  They still hadn't removed the Trefz sign that the previous owners had left.  I hope something new moves in there, or maybe Chewelah will be just another town with a bunch of "for rent" signs in every store front.  Is there another wi-fi coffee shop in Chewelah that doesn't suck? Let me know.
In Spokane, check out Madeleine's –  I went to this place for breakfast two days in a row last weekend.  It is at the corner of Main and Wall in downtown Spokane.  Parking can be a pain.
In Omak, check out The Corner Bistro at 19 E. Apple Avenue.  It is basically right behind the Chinese Restaurant on the main drag.  I think it is called China Star or something like that.  I lived in Omak for 3 weeks last month, and ate at this place lots.  Good Wi-Fi.
In Ephrata, check out the Rock Creek Ice Cream shop on 26 Basin Street NW which is pretty much the main drag in town.  It is owned by the Blue Flame Restaurant next door and they have free wi-fi.  This place just opened up recently.  The ice cream shop also serves espresso.  Nice place.   The nice folks who run the place have heavy accents, so when you ask for the wi-fi password, you may want them to write it down for you.
What am I missing?  Are there any in Kettle Falls, Addy, Soap Lake, Tonasket (actually i just thought of one I can add later), Deer Park?  Let me know.  I won't do new posts, I will just add this list.  The criteria for listing is that they must have a free, good Wi-Fi signal.  It is o.k. if you have to get their password.  All the nieghbor kids don't need to be mooching the signal 24/7.  I don't really want to list restaurants per se, because you need to be able to just buy a 2 dollar coffee and sit their for 90 minutes without feeling out of place.  And the places can't suck, for whatever reason.
Today was the Republic / Curlew Mock Trial Competition in Ferry County.  Judge Kevin Korsmo from the Court of Appeals came to town to serve as our judge. 
After serving as our mock trial judge for 3 years in a row, Kevin Korsmo has developed a considerable local fan base, and students welcomed him to town by posting a large banner at the courthouse.  Korsmo is a judge at the Court of Appeals in Spokane and makes a near 3 hour trip to Republic to work with the youth.
He crosses the highest mountain pass in the state to come, and it is not unheard of to have snow on this pass in May.  The teams consist of the senior classes of the local high schools.  The coaches are local attorneys, and the school teachers have also developed expertise as they have taught numerous mock trial classes over the years.  The teachers are Don Nelson of Curlew High School, and Shawn Corbin of Republic High School.  The two high schools are rivals in many school sports, and the mock trial has become something of a rivalry too.  I believe that Curlew had not won since 2004, and the Curlew kids came into the competition with a strong desire to bring the trophy home.  The mock trial competition consists of two trials actually.  Using a hypothetical fact scenario provided by the national association, each teacher creates a prosecution and defense side.  In the morning, it became clear that Curlew held an edge.  And after the judge announced Curlew the winner of that round, the Curlew kids left for lunch feeling confident.  But after lunch, it soon became clear that the advantage was shifting to Republic High School.  It dawned on the Curlew kids that the trophy might remain in Republic after all.
The students, teachers, parents, and courthouse staff all watched with full attention as the two schools fought for every advantage.  The Republic team made good use of objections that seemed to trip up Curlew at times.  At the completion of the trial, the judge announced that the overall point total went to Curlew High School.  Judge Kevin Korsmo announced that he would be returning to judge the competition for as long we would have him.  Judge Korsmo afterward posed with the students.  Judge Korsmo handed out awards to the students who won in specific areas.  The best defense lawyer award went to Katie Torzewski of Curlew High School.  The best prosecution lawyer award went to Matt Slagle of Republic.   The best prosecution witness award went to Amy Angstrom, and the best defense witness award went to Katy Lee Lewis, both of Curlew.  For more on the mock trial, check out the Unofficial Curlew / Republic Mock Trial Page on Facebook.
I don't belong to any civic groups, and the mock trial is pretty much the only volunteer work that I do.  It usually takes about 20 or 25 hours to coach the kids.  It is definitely pretty fun.
Well it's the end of an era.  Prosecutor Jonnie Bray of the Colville Confederated Tribes is calling it quits on May 28th, after about 15 years with the tribe.  She seemed like a permanent fixture in Nespelem, outlasting police chiefs,  judges, public defenders,  and council members.
Never the permanent lead prosecutor, Bray took less of a leadership roll, and more the roll of the "heavy-lifter".  In what seemed like a thankless job, she took on the cases of legal complexity, the jurisdictional disputes, the tough sex crimes, and homicides.  Often working without a lead prosecutor, the work (from the outsider's perspective) seemed pretty overwhelming, and I often wondered when things would "snap".  But they never did.  Although my contacts with Tribal leadership were pretty limited, I never really got the impression that people fully appreciated just how much she held things together down there.   In a court system where people often bite their tongues, Bray was usually pretty outspoken with her observations.  In an interview with a reporter from The Wenatchee-World last year, Bray wasn't shy about questioning why the FBI and federal prosecutor don't assist more in prosecutions on Indian land.  (See story).  As with any rural area, the jury pool in Tribal Court is small and can be wary of law enforcement.    Bray had a knack for convictions, and out-of-town defense lawyers usually preferred to square off against the non-tribal, juris-doctorate types, who were usually selected as lead prosecutor or special prosecutor.
I asked Bray once about her short stint as a defense lawyer 15 years ago.  She said she realized that she wanted to be a prosecutor after working on defending her first child abuse case.  Jonnie Bray will be moving to the Southwest to go work for the Hopi Nation.   The Hopi are lucky to have her.
There is nothing to make a lawyer feel like he is getting old then when his classmates from law school start donning black robes.  And for me, that classmate is Kevin McCann. 
Check out his website Kevin McCann for District Court Judge, or "like" his Facebook site here.   Kevin was one of those lawyers who was a good guy even when he was in law school.  (For 80% of my law school class, I would support their opponent).   I haven't seen him much since we graduated, but he has been kicking butt over in Pierce County as a deputy prosecutor handling major felonies.   And by "major" I mean murder, robberies and rapes etc.   When lawyers get promoted into such positions of doing major felonies, they often get rusty on the work of District Court.  But McCann has kept active in misdemeanor work by working as a judge pro-tem in courts such as the Olympia and Federal Way municipal courts.
So anyway those are my words of support.  But also from a bloggers point of view you have to admit that McCann has a pretty impressive internet presence.  For example, look at his Facebook Fan Site.  McCann is a political newcomer, and yet already he has more FB fans (506) than Supreme Court incumbant Jim Johnson (397) and Supreme Court candidate Charlie Wiggins (327).   The only judicial candidate that seems to have more FB supporters is Justice Sanders.
For those of you interested in Facebook fan sites for local candidates in Eastern Washington, check out the sites for Tom Brown, Dennis Morgan, Rick Weber.   Show your support!  Also, I have blogged in the past about the Spokane Prosecutors race.  More on that next week.
An interesting judicial race is taking shape in Stevens County.  Judge Gina Tveit is defending the position of District Court Judge, to which she was appointed last year by the county commissioners.  (Her campaign site is here.) Challenging the incumbent is Spokane criminal defense lawyer Ronnie Rae who bought a home in the Loon Lake area in 2006.
Driving through the county, you can see Gina Tveit signs up, but I didn't see any for Ronnie Rae yet.  Ronnie Rae has been practicing law for 6 years and is just 32 years old (I have blogged about young candidates in the past here).  The only precedent I could find in Eastern Washington for a judicial candidate so young was 33-year-old John O. Cooney, who beat Mark Laiminger to become a Spokane District Court Judge.  But Cooney had name recognition – has dad was also named John Cooney and he was a judge too.
It seems like in judicial elections the race frequently comes down to name.  In 1990 the Chief Justice Keith Callow of Washington State, a widely respected judge who drew little controversy, was thrown off the bench by voters who chose instead a 39-year-old Charles Johnson who had never been an elected judge and who did not campaign.   Political analysts concluded that voters did not know either candidate and so they picked the one with a familiar-sounding name.  Then in 1998, some knucklehead named "Jim Foley" ran for Supreme Court and boasted of having the advantage of a name voters might mistake for Tom Foley, a former congressman and speaker of the House.  Foley beat an incumbent justice in the primary, but lost to Faith Ireland.  Ireland herself changed her name to "Ireland" from Enyeart a few years prior because it would be "easier" for people.
Let's wait and see what happens with this judicial race in Stevens County.  Tveit is pretty popular in Stevens County, it seems like Rae will have one heck of a hill to climb.
For more on other judicial races see here.
I received a message today from a friend on Facebook letting me know about a rally in Spokane to encourage the city council to enact stronger laws to ensure police accountability.  The Facebook page reads:
On May 17th the Spokane City Council will be voting on an ordinance to mandate that the Police Ombudsman conduct independent investigations and issue public reports about Spokane Police conduct. Right now, investigations are conducted by the Internal Affairs dept of the police.
Come urge City Council members to vote YES on this important step forward! Come join members of the Peace and Justice Action League of Spokane, MEChA of EWU, SHAWL Society, Progressive Democrats, NAACP, NAMI, CORD, VOICES, Need to Know, Center for Justice, Eastern Washington Voters, and Odyssey Youth Center to support this ordinance.
Rally at 5p; City Council meeting at 6p.
More info: contact PJALS at 838-7870 or pjals@pjals.net
After the death of Otto Zehm in Spokane  in 2006, I often think about the subject of police accountability.
(I have blogged about the subject here, here and here.)  The announcement I received today made me think of a book called Carl Maxey, a Fighting Life by Jim Kershner, a reporter for the Spokesman-Review.     As we know Maxey, a black lawyer from Spokane, was a champion of the civil rights movement and the anti-war movement before his death in 1997.  But he also was a strident advocate for police accountability in Spokane.   Maxey was perpetually frustrated by the subject.   After a coroner's inquest justified the police shooting of a black teenager in the back, Maxey complained: "It's apparent from this travesty that there must be a viable method or getting a full and complete investigation when a death is caused by a policeman.  At present, a citizen has no protection against the police."  Thirty-five years later, Spokane still does not have sufficient independent over site of police misconduct.  The new proposed law before the city council would give the independent ombudsman greater authority by conducting independent investigations of police officer actions.
When I worked as a prosecutor I was often troubled by the lack of legitimate recourse citizens had when they felt aggrieved by police actions.  It seems like the only recourse is to go to a lawyer and sue.  And in that case it is usually the tax payer that loses out rather than the individual officer.  Last year I represented a Native-American man who was accused of assaulting a police officer in Spokane.  An independent witness came forward on the day of trial and testified that she looked out her window and saw what really happened.  She testified that my client did not assault the police officer, and in fact described instead what would be considered excessive force by the police.   Not surprisingly my client was acquitted.  However, he still has the scars from the use of the taser, and he missed a considerable amount of work due to the incident.  Like Maxey, my client is still waiting for a system to be created that provides for independent investigations into the use of force.
Let's see what the Spokane City Council does later this month.  Check out the website of PJALS for more info on this subject.
If you are in Spokane Thursday night, you may want to swing by Auntie's Book Store at 7 p.m. to hear Candace Dempsey read from her new book Murder in Italy. 
The book is about the case of Amanda Knox and Raffaele Sollecito who were convicted in December of the murder of Meredith Kercher.  Amanda Knox was an American student from the University of Washington at the time, and Meredith Kercher was visiting from England.  The story made international headlines, and the conviction was controversial particularly among U.S. legal experts.
Candace Dempsey certainly knows her way around Spokane, having formerly worked at the Spokesman-Review.    Lately Dempsey has been blogging about the case for the Seattle PI.  I have not read the book yet, but I have it ordered from Amazon.  I won't be able to make it on Thursday, but someone let me know how it goes.
Speaking of good books.  I just finished reading the book The Lovely Bones, by Alice Sebold.  (O.k. I admit it, I didn't actually "read" the book, I listened to it on Itunes).  I also rented the movie too, again on Itunes.  Both were good, and you may want to check them out.
I will let you know about Murder in Italy after I read it.  Right now, I am waiting with all the other Amanda supporters to wait for the Italian appeals court to review her case.  I am still optimistic.
In today's Doonesbury cartoon in the Spokesman-Review, Alex Doonesbury starts an argument with some guys wearing guns in a coffee shop.  They respond by implying that her boyfriend Leo is not manly enough to pack a gun.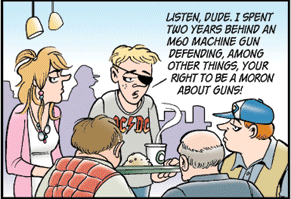 Leo is an Iraq War vet and he puts them in their place.
I blogged last summer about the open carry movement in rural Washington, and I have been tracking it for about 3 years.  When I wrote that blog post last summer, I really thought more would come of the movement in rural areas.  However, it really seems to be more of an urban thing.  It seems as if the open-carry advocates are focusing on the Seattle and San Francisco Bay areas.  Check out a good article in the Seattle PI about the subject of Starbucks' decision not to prohibit open-carry in their stores.  See here.   The odd thing about this issue is that I think a lot of urbanites assume open-carry occurs in rural areas.  I live in a very rural area with no local gun ordinances, and I literally do not recall a single instance of open carry here in the 15 years that I lived here.   I have obviously seen people armed at the gun range, out hunting, or even on their own property in Ferry, Stevens and Okanogan County.  But I have never seen someone just come into the supermarket or coffee shop bearing a side arm in open view.
To view the full Doonesbury cartoon online click here.  (Note that if you visit this cartoon after Sunday, you will have to click "previous" at the top of the cartoon to see Sunday's strip.)  Also, check out this youtube video.

Watching this video it is hard to tell who is supporting what side. Seattle is a weird place.
I dare say John Knodell had no idea what kind of chaos would ensue when he decided to step down from his position as Grant County Prosecuting Attorney.  He had served almost 20 years, and resigned when he was elected judge in November of 2008.
Knodell left what  I think political scientists call a "power vacuum", and we all know that nature abhors a vacuum.   After the Commissioners appointed Angus Lee as prosecuting attorney, he won the election with a slender majority, and hard feelings have followed.  (See prior blog posts on the election battle here, here, and here.)  Angus Lee's election year opponent Albert Lin just filed a 2.5 million dollar claim against Grant County alleging he was pressured to commit unethical acts by Lee last year.  See article.   Lin complains that he was unlawfully fired.  Hmmmmm.  Sounds a lot like the case in Pierce County in 2008.  Deputy Prosecutor Barbara Corey was fired, and later came back to win a 3 million dollar lawsuit against Pierce County for unlawful termination, defamation of character, etc.  See article.
The people who really end up losing are the public citizens.  This is true in two ways.  First the public ends up paying the big jury awards (the prosecutors don't pay out of their own pockets of course).  Secondly, the public also pays in lost productivity when a prosecutors office is split in two between supporters of both sides.
Another prosecutor's race to watch is Kittitas County.  Former deputy prosecutor Mark McClain came out swinging when he announced that he was going to run against his former boss Greg Zempel.  His announcement read: An antiquated office structure, policies which hamper the dedicated and capable staff, a focus on misdemeanor offenses rather than felony crimes with prison sentences, and an elected prosecutor absent from the courtroom, are at the heart of the issue and must be changed in order to protect and maintain the safe community which we enjoy. Ouch!  Whatever happened to at least starting off a campaign on a positive note?